Our friend Larry Borden from Hammer Kickboxing Academy - Fort Lauderdale, Florida, with UFC Heavyweight Champ Junior Dos Santos! From a WCK Muay Thai event in 2010 at the Pala Casino where Larry's student Tecia Torres won the IMTC Women's International Bantamweight belt.
If you want great training for kickboxing, mma fight training, cardio and fitness… give Larry a call!
There are classes for all levels!

Vist HAMMERKICKBOXING.com for more details.
Lorenzo Fertitta breaking some pretty big news items in an impromptu recent Twitter Q&A session. Here's a quick rundown…
— Lorenzo confirmed that Junior dos Santos vs. Alistair Overeem will headline their Memorial Day Weekend card on May 26. The card is expected to take place in Las Vegas.
— Cain Velasquez vs. Frank Mir is in the works, but Fertitta didn't say when it would happen.
— Tito Ortiz's final opponent will in fact be Forrest Griffin. It's also unclear when that fight will happen.
— TUF 15 coaches Dominick Cruz and Urijah Faber will meet on July 7 in Las Vegas on the UFC's July 4th weekend card. Those two have already started getting back into it on Twitter.
— In reaction to Nick Diaz's positive marijuana test, Lorenzo said he was "disappointed because [he] really likes him," but it's in the NSAC's hands now. He added that Nick "just needs to get it together," and that he will be back once his suspension is over. Lorenzo's "a sap for real fighters."
— Lorenzo isn't sure if Carlos Condit will defend his interim welterweight title before fighting Georges St. Pierre.
— Jon Jones vs. Anderson Silva might be a possibility down the road.
— Frankie Edgar vs. Jose Aldo is a "good idea" if Edgar beats Ben Henderson.
— Lorenzo agrees with Dana White that Mayhem Miller "looked terrible" against Michael Bisping.
— "Sure," they would still consider signing Fedor Emelianenko for the right price and terms.
— Not interested in bringing Tim Sylvia back.
— They would be interested in signing Bellator's Hector Lombard and Alexander Shlemenko.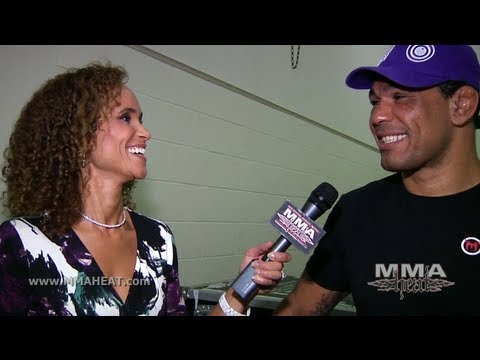 MMA H.E.A.T.'s Karyn Bryant talks with Junior dos Santos' coach, Antonio Rodrigo "Big Nog" Nogueira, minutes after Junior's win over Cain Velasquez, and gets the incredible story of how Junior was on crutches just 11 days before the title fight. Big Nog tells us about the meniscus injury, Junior's treatment of it and how and when they revealed the injury to UFC President Dana White. He also lets us know why he decided to fly to the states at the last minute to be present at the fight, how his camp is going in advance of the Mir fight at UFC 140 and whether he thinks Chael Sonnen deserves the rematch with teammate and champ Anderson Silva.
1 Miniute and 04 seconds in the first round and it is all over. Dos Santos hammers the champ Cain Velasquez with a vicious right hand. Seemingly uneventful for such an enormous venue. Somewhat old school Mike Tyson PPV feeling. But you can't take anything away from the Brazilian who has waited all his life for this moment.
"I have no words to say what I am feeling," dos Santos said from the Octagon as tears began to well up in his eyes. "It's amazing, my life. I want to say thank you to my family. I have a lot of good people around me."
The fight marks UFC's network debut as part of a seven-year deal with FOX. The main event was originally scheduled to headline next Saturday's UFC 139 card, but was moved up to headline the initial FOX broadcast. Each fighter entered with an unblemished record in UFC competition.
Velasquez's attempt to defend his title didn't last long.
"He kind of messed up my equilibrium," Vesasquez said of the hard right that hit him near the left ear. "It was a good shot. He has a lot of power. I waited too much for him and he did what he was supposed to do. Hats off to him tonight."
Velasquez last fought October 2010 at UFC 121 at the same arena as Saturday's contest. He won via a first-round TKO over Brock Lesnar, but Velasquez sustained a torn rotator cuff in his right shoulder that required surgery. Dos Santos has quickly risen through the heavyweight ranks since the Brazilian's first fight stateside three years ago, including a victory by decision over Shane Carwin at UFC 131 in June.
"I want to say sorry to all my fans, my family and friends," Velasquez said as his eyes scanned the partisan stands, where many wore the colors of Mexico to support him. "I disappointed you. I am much more than this. I will come back and I will get this belt back."
The 6-foot-1 Velasquez weighed in at 249 pounds on Friday, while the 6-foot-4 dos Santos came in at 239.
There were eight fights on the undercard before the main event got underway. Benson Henderson defeated Clay Guida by unanimous decision in the undercard headliner, which is expected to lead to a shot at UFC lightweight champion Frankie Edgar when the UFC returns to Japan on Feb. 25.
Dustin Poirier moved toward featherweight contention with a submission win over Pablo Garza, while Ricardo Lamas came back after falling behind early to submit Cub Swanson in their featherweight encounter.
DeMarques Johnson scored a first-round TKO just 1:34 into the first round of his welterweight bout when he knocked his opponent Clay Harvison to the canvas and pounced on him, raining strikes down before the referee called the bout to a halt.
In his first UFC bout, Darren Uyenoyama beat MMA legend Kid Yamamoto by decision in a bantamweight bout. Robert Peralta scored a third-round TKO over Mackens Semerzier in a featherweight encounter, while Alex Caceres, Mike Pierce and Aaron Rosa all scored victories in their bouts.