Paul "Semtex" Daley has been cut from the UFC, after sending a well-deserved left hook towards Josh Koshcheck's face moments after the final bell. After the Strikeforce brawl, Dana White is obviously spinning this by making Daley an "example".
http://blogs.telegraph.co.uk/sport/garethadavies/100008013/exclusive-ufc-113-paul-daley-cut-from-ufc-by-dana-white/
Should Daley have thrown that punch?
No BUT, it's not a big deal.
This is a fighting sport
If you watch the replay, the big hook barely clipped Koscheck
Koscheck faked getting an illegal knee to the head in the first round. It's not sportsmanlike. It interrupts the fight
Koscheck avoided Daley's hands at all costs during the fight, despite the smack talking
"Daley is cut. He is gone as of now. What the fuck was he thinking in there ? Was he out of his mind ? I said to him, you're a good fighter, why would you do something like that ? He told me he didn't hear the bell. He had all the potential to go on and be one of the great fighters in this division. "
"He will not fight in the UFC again. He's done. If he does fight again in the UFC it will not be for another 100 years. As an organisation we are very down to earth, people make mistakes, bad things  happen, but don't ever, ever deliberately hit a guy after the bell. Yes, he was frustrated…but this is a sport not a streetfight, and they are athletes, not thugs, and we have to send a clear message."

- Dana White, UFC President
The title says it all. Mayhem looses it after finding out the EA Sports developers took some "creative liberties" with his character in the new UFC Undisputed 2010 video game!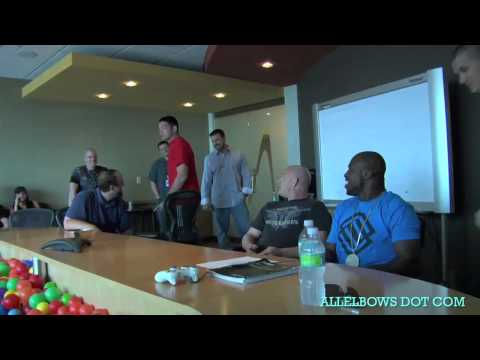 Strikeforce on CBS
During the most recent Friday Night Fights a brawl ensued following the main event. Sparked by Mayhem Miller issuing a personal request for a rematch during Jake Shields victory interview.
Jason "Mayhem" Miller (DREAM tournament champion / Host of MTVs Bully Beatdown) and Jake Shields both dominate in their performances Friday night.
---
Jason "Mayhem" Miller & Jake Shields Fight Video
Post Fight Video Interviews w/ Mayhem Miller, Nick Diaz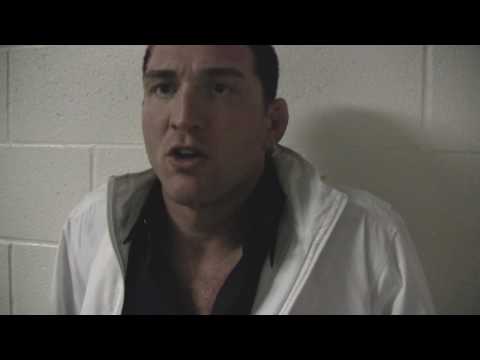 Miller's Fanhouse interview after his Win
"Providing an action-packed UFC pay-per-view, live and commercial free to our viewers on both coasts, further illustrates Spike TV and the UFC's commitment to its fans," Spike TV president Kevin Kay said to UFC.com.
The undercard for UFC 103 currently features 8 bouts including
Efrain Escudero vs. Cole Miller
Drew McFedries vs. Tomasz Drwal
Rom Emerson vs. Rafael Dos Anjos
Vladimir Matyushenko vs. Igor Pokrajac
Eliot Marshall vs. Jason Brilz
Dan Lauzon vs. Rafaello Oliveira
Paul Daley vs. Brian Foster
Thiago Tavares vs. Jim Miller
No reasoning for the decision to air the free fights was given from the UFC or Spike TV. Many people believe it's because the event will be going head-to-head with a boxing bout between Floyd Mayweather Jr. and Juan Manuel Marquez. But I think that answers the question quite clearly. Do I have to remind you about the free airing of UFC 100 during Strikeforce's Carano VS. Cyborg. Dana White and the UFC look as if they are going for the jugular with every competing event.
UFC 103: Franklin vs. Belfort will be headlined by a bout featuring former UFC middleweight champion Rich "Ace" Franklin taking on former UFC heavyweight champion Vitor Belfort at 195-pound catchweight. The event is scheduled for September 19 at the American Airlines Center in Dallas, Texas.

The Official Results from UFC 102
UFC 102 was action packed with some of the sports most decorated and upcoming fighters, in prime shape, delivering beyond all expectations. Here are the official results.
You can watch all of the full, high quality fights now. Thanks to our friends @ MMA Core.
http://thedragonzone.com/site/featured-articles/2009/watch-ufc-102-full-fights
Antonio Rodrigo Nogueira defeated Randy Couture by Unanimous Decision
Thiago Silva defeated Keith Jardine by KO at 1:35 of Round 1
Jake Rosholt defeated Chris Leben by Submission (Arm-Triangle) at 1:30 of Round 3
Nate Marquardt defeated Deminan Maia by KO at 0:21 of Round 1
Brandon Vera defeated Krzysztof Soszynski by Unanimous Decision
Aaron Simpson defeated Ed Herman by TKO at 0:17 of Round 2
Gabriel Gonzaga defeated Chris Tuchscherer by TKO at 4:27 of Round 1
Mike Russow defeated Justin McCully by Unanimous Decision
Todd Duffee defeated Tim Hague by KO (Punches) at 0:07 Seconds of Round 1
Mark Munoz defeated Nick Catone by Split Decision
Evan Dunham defeated Marcus Aurelio by Split Decision
The Official $60,000 UFC Bonuses
Here are your official fight bonus winners from UFC 102.
Fight of the Night


Antonio Rodrigo Nogueira and Randy "The Natural" Couture win Fight of the Night for their stellar 3 round performance. Candidate for fight of the year!

Knockout of the Night


Nate Marquardt with a commanding knockout in 21 seconds of the first round

Submission of the Night


Jake Rosholt with an arm triangle that put Chris Leben to sleep
More commentary here:
http://mmajunkie.com/news/16034/ufc-102s-jake-rosholt-had-60000-riding-on-couture-nogueira-outcome